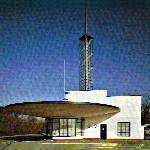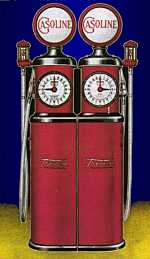 Petrol stations and architecture.
---

The modern standard petrol stations aren't real creativeat all, the designs have to be conform strict commercial company rules.
Yesteryear this used to be different. Especially in the past very beautiful stations have been built. Take for instance a look at the beautiful series of petrol stations built by the Dutch architect Van Ravesteyn for the Fina oil company. Only one of those is still existing, at the Apeldoornseweg in Arnhem. But it's out of function and abandoned.
Dudok developped a series of standard stations in the past. Not so long ago one of the last existing examples was moved to the Autotron car museum in Drunen, and restored.
In Nijmegen is still an old petrol station, disk shaped and beautiful renovated, which now houses an architect's office.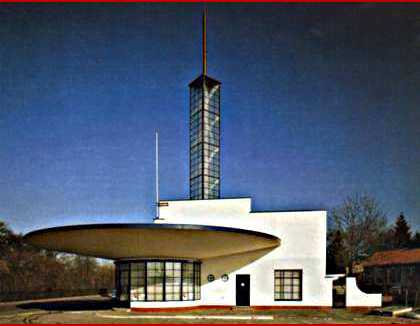 Petrol stations are strongly connected to modern life. So we aren't so often aware of the impact they have on city and landscape. The whole category of buildings is often neglected by researchers of industrial archaeology and historic architecture. Many don't even know much about their creation process and why petrol stations look as they look.
For oil companies a station isn't only a fuel selling point. The exterior plays an important role in their marketing concepts. Stations should be recognisable as Fina or Shell in the same way, from Naples to Narvik.
It's a reason why the look of both network as single stations change continuously when oil-companies are re-imaging. There are also continuous changes in road infrastructure and environment rules, leading to demolishing or renovation. That's why not many of architecturally interesting buildings from the past remain.

Most modern filling station architecture is completely exchangeable. They really look like each other. Because of the growing scale and merging of companies these days, it's quite good possible a filling point suddenly changes its colours. The Dutch Aral network changed to Mobil some years ago. Mobil white later changed to BP green. The companies prefer standard architecture where you just can exchange their logos and colors at the facades.
In the cases mentioned above there were some remains left of company-connected architectural elements. Like the hexagon Aral shop buildings and the circular Mobil canopies. For connaisseurs it looks a bit strange now to observe BP-green round canopies and hexagon shops.
But it's quite sure that those traces of the past will be faded away as soon as possible.
.