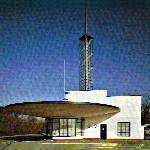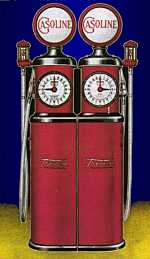 Continuing your research
---
For all those who want to learn more about the interesting world of filling and carwash, here are some links to other interesting sites with related info.
There's also a list of interesting books. Both lists are not complete, so I'm always interested to hear your suggestions for more.
.
A list with links to other places with info about petrol stations and architecture. Most of it is American.
A literature list for interested people:
---

"Fundamentals of the petroleum industry"; R.O.Anderson,
London 1984

---

"Automobile Archaeology"; D. Burgess,
Cambridge 1981

---

"Pioneers of Petrol, a century history of cars"; E. Liveing,
London 1959

---

"Industrial architecture, an analysis of international building practice"; J.F. Munce,
New York 1960

---

"Benzinestations"; J. Segers,
Nijmegen 1984

---

"Garagen und Tankstellen"; R. Kehlefeld, F. Jagnes,
München 1956

---

"Fill her up!, An architectural history of America's gas stations", D.I. Viegra,
New York 1979

---

"Garages and service stations"; J.W. Ricciati,
Hainlin 1952

---

"Gas, Food and Lodging, A Postcard odyssey"; Abbeville Press,
New York 1982

---

"Vormgeving van Benzinestations"; A.G.Boost; Wegen mei 1953
en juni 1954

---

"Beknopt historisch overzicht van Esso in de Benelux";
Antwerpen-Breda 1991

---

"The gas station in America"; John Hopkins University Press,
Baltimore-London 1994

---

"Tankstellen, die Benzingeschichte"; Berlin 1982

---

"Super oder Normal", isbn N3-7701-3516-4, Bernd Polster

---

"Drooggelegde benzinestations" uit "Herbestemming industrieel
erfgoed in Nederland";
Walburg Pers, Zutphen 1994

---

"Vlucht der snelheid. Adoratie voor een benzinestation";
De Architekt, dec. 1986

---

"Voor een tientje super graag" foto's; Architext Amsterdam

---

" Het Esso-station van W.M. Dudok", uit: "Buiten Bedrijf"
van het Projectbureau Industrieel Erfgoed. Blijdenstijn, R. (e.a.),
Zeist, 1996

---

"The American gasstation"; Motorbooks Int.
Publishers and Wholesalers, Osceola US 1993
.